RAFFLE: XBOX ONE (Day One Edition) + Game
The Michael Feger Paralysis Foundation is raffling a Factory Sealed XBOX ONE (Day One Edition) console with a Day One Edition game, RYSE Son of Rome.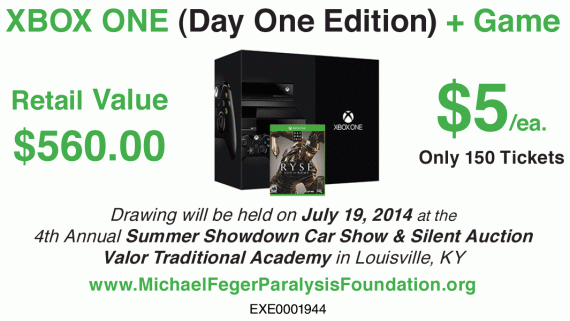 This is the Limited Day One Edition of XBOX ONE. This edition was a one time release and is no longer available. It is in Factory Sealed Retail Box.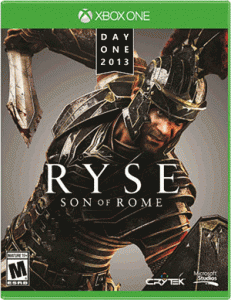 XBOX ONE Features:
Hard Drive: 500GB
Built-in Blu-ray Player
Motion Control: Kinect 2
Voice Command: Yes
It is a Region-Free console, it will play all XBOX ONE games from any countries
WiFi 802.11 b/g/n (Dual Band 2.4GHz and 5GHz)
Gigabit Ethernet Port
USB 3.0 Ports
Included in the Box:
Kinect 2 Sensor
Wireless Controller (Day One Edition)
Headset
HDMI Cable
Power Supply Unit
Drawing will be held on July 19, 2014 at the
4th Annual Summer Showdown Car Show & Silent Auction
Valor Traditional Academy in Louisville, KY
You do not need to be present to win!
If you want tickets or have any questions please contact us!
UPDATE: Winner was drawn on July, 19, 2014. Congratulations to Chris Fordham