Who We Are
Michael Feger Paralysis Foundation
The Michael Feger Paralysis Foundation was founded in 2010. Our mission is to help people who have paralysis in Kentucky and Southern Indiana. We provide assistance and educational materials to people affected by spinal cord injury and related diseases.
We are a registered 501(c)(3) non-profit charitable organization. EIN: 90-0652579
Raffles are conducted under License Number EXE0001944, under the Commonwealth of Kentucky's Department of Charitable Gaming in Shelby County.
Mission Statement
Our mission is to raise awareness about spinal cord injury and disease through education. Provide assistance to people who have a spinal cord injury or disease. Help them move forward in a life of independence, health, and personal fulfillment.
Geographic Reach
The foundation currently supports people who live in Kentucky and Southern Indiana.
About Michael Feger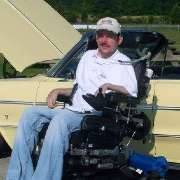 Michael Feger has always been fascinated with cars, computers, and anything technology. After graduating High School in 1999 he started a Graphic Design degree at Louisville Tech.
On May 9th, 2002 Michael was rear-ended by a semi truck while driving to a car show. The wreck injured his spinal cord at C3, C4 & C5, resulting in Paralysis from the neck down; and an Incomplete Quadriplegia. At Frazier Rehab Michael learned how he could use the computer again by using a head-controlled mouse. When Michael got home from the hospital he started to volunteer his time and build websites.
Since his spinal cord injury, Michael has volunteered to build several websites for non-profit organizations. You can see some of his volunteer work on Michael Feger's personal website.
Board of Directors
Michael Feger
President/Treasurer
Mike Perry
Vice President
Kathy Melear
Secretary
Betty Perry
Fundraising Chairperson
Sue Caudill
Board Member
Stephanie Gaddie
Board Member
Alicia Lamarche
Board Member
Angela Lineberry
Board Member
Sharon Lovell
Board Member

Keith Perry
Board Member

Amanda Ragland
Board Member