2014 Summer Showdown Car Show & Silent Auction

The Michael Feger Paralysis Foundation is hosting the 4th Annual Summer Showdown Car Show & Silent Auction on July 19, 2014.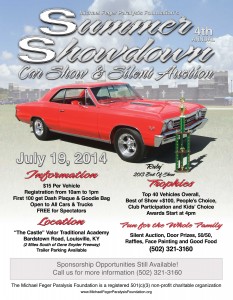 The 2014 Summer Showdown Car Show & Silent Auction will be Saturday July 19, 2014 from 10am to 5pm. At Valor Traditional Academy "The Castle" in Louisville, KY. (2 Miles South of Gene Snyder Freeway)
Vehicle Registration is $15 from 10am to 1pm. First 100 vehicles will receive a Dash Plaque and Goodie Bag.
Trophies will be given to the Top 40 Cars/Trucks. Special trophies include: Best of Show +$100, People's Choice, Kid's Choice and Club Participation. Awards will start at 4pm.
We are also have a silent auction, 50/50, face painting and lots of door prizes. We have over 100 product sponsors supporting the car show and silent auction. There will be several local vendors to checkout.
All proceeds benefit the Michael Feger Paralysis Foundation. We are a 501(c)(3) non-profit charitable organization. Our mission is to help people effected by spinal cord injury and related diseases. We greatly appreciate all your support and donations.
Help change the lives of people living with spinal cord injuries!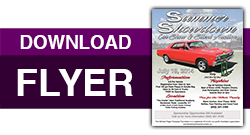 2011 Summer Showdown Pictures By Toni
Show Features:
A Great Location, plenty of grass and pavement for show cars.
People's Choice Award, people get to vote for their favorite vehicle
The Goodie Bags and Door prizes are awesome
Silent Auction with something for everyone
50/50 and other amazing raffles
Trophy Information:
Best of Show +$100
Top 40 Overall Cars & Trucks
Club Participation Trophy
People's Choice Trophy (Custom Built Piston Trophy)
Kid's Choice Trophy
Fun for the whole family:
Kid's Choice Award, kids get to vote for their favorite vehicle
Free Face Painting
Free Edelbrock coloring books
Playground with swings and slide on property
Large indoor restrooms inside school
About the Good Food:
Grilled hamburgers & hotdogs
Assortment of desserts and cookies
Air Condition Cafeteria
Featured Silent Auction Items:
"Legendary Golf"  package for 4 @ Chariot Run
Crosley 1950's Replica Red Payphone (picture)
Crosley Jukebox CD (picture)
More Information:

Map & Directions