Valley Dairy Freeze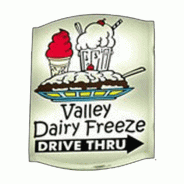 We are a family owned and operated ice cream shop in Southwest Jefferson County. Previously located on Dixie Hwy, the shop has since been relocated to the corner of Valley Station Road and Deering Road (across from Valley High School).
Shelley Blandford, our fearless leader, has been passionately working with ice cream most of her life. She came into the business with her father and brother, and now is the sole owner of Valley Dairy Freeze.
We have a large menu of ice cream, shakes, fat & sugar free frozen yogurt, smoothies, hot foods, and other items to satisfy your sweet tooth!
We also have the Valley Dairy Freeze To-Go trailer, which can be requested for events in the Louisville area. We'll come to your location and serve some of our most popular hand-dip cones, sundaes, and snow cones to your guests!
Call (502) 933-3429 and ask to speak to Shelley Blandford if you're interested in having us at your event.