The Pittsburgh Steelers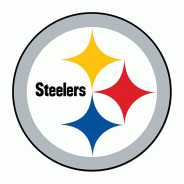 The Pittsburgh Steelers are a professional American football team based in Pittsburgh, Pennsylvania. The Steelers compete in the National Football League (NFL), as a member club of the league's American Football Conference (AFC) North division. Founded in 1933, the Steelers are the oldest franchise in the AFC.
The Steelers were founded as the Pittsburgh Pirates on July 8, 1933, by Art Rooney, taking its original name from the baseball team of the same name, as was common practice for NFL teams at the time. To distinguish them from the baseball team, local media took to calling the football team the Rooneymen, an unofficial nickname which persisted for decades after the team adopted its current nickname. The ownership of the Steelers has remained within the Rooney family since its founding. The current owner is Art's son, Dan Rooney, who has given much control of the franchise to his son Art Rooney II. Long one of the NFL's flagship teams, the Steelers enjoy a large, widespread fanbase nicknamed Steeler Nation. The Steelers currently play their home games at Heinz Field on Pittsburgh's North Side in the North Shore neighborhood, which also hosts the University of Pittsburgh Panthers. Built in 2001, the stadium replaced Three Rivers Stadium which hosted the Steelers for 31 seasons. Prior to Three Rivers, the Steelers had played their games in Pitt Stadium and Forbes Field.