Tatú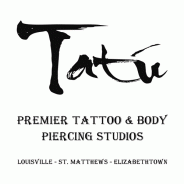 Tatú is Kentucky's Premier Body Modification studio. Offering top notch, award winning artist, state of the art facilities, and the most inviting atmosphere in the industry.
With two locations and growing we plan on bringing the same great service to a mall near you soon. Our mission is to create a place where local artists can come together as one elite studio providing the best to artwork to the customers in that area.
Open 7 Days a Week! Call today to schedule an appointment!
Towne Mall – Facebook – (270) 360-8288
St Matthews – Facebook – (502) 259-9990