Old Bardstown Village and Civil War Museum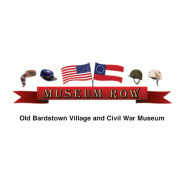 The Civil War Museum & the Women's Museum of the Civil War are America's largest and most complete Museums devoted to the Western Theater of the American Civil War. Over 8000 Square feet of authentic period exhibits tell of the struggle between the forces of the Union and Confederacy, from the Appalachian Mountains west to the Mississippi and south to Georgia and the Gulf of Mexico.
The Museums are located in downtown Bardstown, Kentucky, in the center of the beautiful Bourbon country. Bardstown is just one hour West of Lexington, off the Bluegrass Parkway, and 45 minutes South of Louisville, off Highway 65.