Goodfellas Pizzeria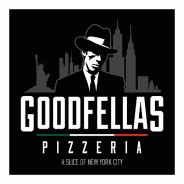 Goodfellas has been serving pizza by the slice since 2005. Our pizza is gigantic, 22 inches, serving a true New York style pizza by the slice. Our dough is made fresh daily, hand tossed and baked off on the stone. Entertaining our guests is part of our service, tossing the dough and performing dough tricks to great energetic music is always a crowd pleaser.
We are Late Night Pizza ROCKSTARS ! Stop by late night and see why!
Locations in Kentucky, Ohio, Indiana, Tennessee, & More to come!
Goodfellas Pizzeria (Distillery District)
1228 Manchester St.
Lexington, KY 40504
(859) 523-5280
Goodfellas Pizzeria (Mill Street)
110 North Mill Street
Lexington, KY 40507
(859) 281-1101