Churchill Downs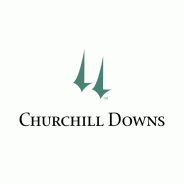 Churchill Downs, the world's most legendary racetrack, has conducted Thoroughbred racing and presented America's greatest race, the Kentucky Derby, continuously since 1875.
Known as the home of the Kentucky Derby and the Kentucky Oaks, Churchill Downs Racetrack conducts Thoroughbred horse racing in Louisville, Kentucky during three race meets in the Spring, September, and the Fall. The racetrack occupies 147 acres, featuring a one-mile dirt, oval racetrack and a seven furlong turf race course. Thoroughbred racing, the Kentucky Derby, and the Kentucky Oaks have run continuously at Churchill Downs Racetrack since 1875. In addition, Churchill Downs Racetrack has hosted the Breeders' Cup World Championship eight times.
Over the course of three centuries, the track has completed several massive renovation projects to modernize its venerable grandstand and clubhouse and to accommodate its more than 165,000 guests on Kentucky Derby Day. Modernization projects have included the construction of private luxury suites and integrated simulcast areas, the installation of permanent lights to operate night-time race programs, and building The Big Board – the world's largest 4k video screen. The Twin Spires that sit atop the grandstands remain the most recognizable architectural feature of Churchill Downs and serve as a symbol of the racetrack. The spires were designed by architect Joseph Dominic Baldez and were built in 1895 – they shine across the world's most legendary racetrack each night.