Chick-fil-A Bardstown Road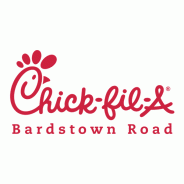 We're proud to be your nearest Chick-fil-A®, serving freshly prepared food crafted with quality ingredients every day of the week (except Sunday, of course). Our restaurant offers everything from Chick-fil-A menu classics, like the original Chick-fil-A Chicken Sandwich, Chicken Nuggets and Chick-fil-A Waffle Potato Fries®, to breakfast, salads, treats, Kid's Meals and more. Feeding a group? Our Chick-fil-A location also offers a variety of catering options, perfect for your next get-together. On this page, you can check out our operating hours as well as the dining options that are currently available at our restaurant.
If you're looking for great food nearby, it's our pleasure to serve you.
Chick-fil-A Bardstown Road
3420 Bardstown Road
Louisville, KY 40218
(in front of Costco)
(502) 459-0070