Cookbook Fundraiser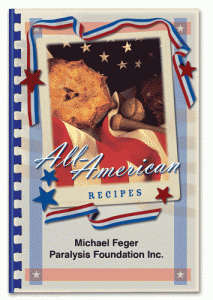 We will be publishing a cookbook filled with the best recipes from the best cooks in our community – and we need your favorite recipes! The cookbooks will cost $10 each! All of the profits from the sale of the cookbooks will go to the Michael Feger Paralysis Foundation Inc. These 5.5″ x 8.5″ cookbooks, with plastic comb binding, will most definitely become a cherished keepsake on your kitchen shelf! We would like to have one or two of your favorite recipes as soon as possible. We will publish your recipes in our cookbook; your name will even be printed in the cookbook with each of your own recipes!
Please mail us your recipes or type them in the form below. If you submit your recipes to us within the next few weeks, we will be able to publish your recipes in our cookbook.
Thank you so much for participating in our fundraiser.
Please mail recipes to:
Michael Feger Paralysis Foundation
PO Box 118
Shelbyville, KY 40066