Well Told Design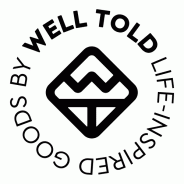 Life-inspired products for inspired living. Uniquely personalized design on functional, everyday goods and gifts.
Our Brand, Your Story.
We Enable People To Express The Stories That Define Their Unique Life Experiences – From Small Moments To Big Ones And Everything In Between – On The Canvas Of Their Everyday Products.
Inspired by you. Designed for life.
Our Mission Is To Meaningfully Enhance The Value Of The Products You Use, Not Only Through Their Style And Functionality, But In Their Ability To Turn An Everyday Moment Into An Inspired One By Conveying A Story Of Personal Significance.
Our Declaration of Inspiration.
We Believe Products Imprinted With A Personal Story Enhance The Moment Of Use By Reminding People Of What Inspires Them And Making That Moment An Inspired One, In Itself.