Union 15 – South End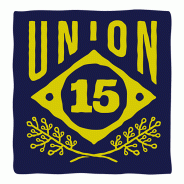 A grass roots effort to bring deliciousness to the South End washed down with an ice cold beverage
Union 15 South End was co-founded by two Southenders – Paul Blackburn who attended Holy Cross High School and Alex Tinker who attended DeSales High School. We were both born and raised in the area and couldn't be prouder to come back to it.
We chose Colonial Gardens because of its rich history and ties to the South End. Growing up, we watched Colonial Gardens go from being a fun-filled dancehall and local hangout to a downtrodden blight. We saw an opportunity to give back to the community who raised us to be the human beings we are today through a really fun and friendly local concept – Union 15! We're proud of our heritage and so proud to be an active member of our local community.
Union 15 is an ode to the great Commonwealth of Kentucky.
Many people may not know but KY was the 15th State in the Union. Union 15 also represents the hard working, motivated, people who built our community. Union 15 is a place for all to come have a cold beer, a hot pizza pie, and catch up with Friends new and old.
Address: 816 W. Kenwood Dr, Louisville, KY 40213
Phone: (502) 653-7494