The Old Spaghetti Factory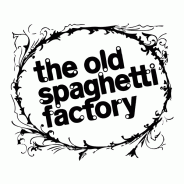 The Old Spaghetti Factory is a family owned and operated restaurant founded in Portland, Oregon in 1969 by Guss and Sally Dussin.
Dedicated to satisfying dining in warm surroundings, the Louisville Old Spaghetti Factory, established in 1985, is situated on the corner of Third and Market Street in downtown Louisville.
Our building was once the famous Levy department store noted for its display of string lighting which illuminated the exterior for decades.
Nearby are the Louisville Convention Center, the worldwide headquarters of the Presbyterian Church and the historic Galt House Hotel.
We hope you will enjoy your visit with us and find many pleasant memories of the color and charm of Louisville.
The Old Spaghetti Factory
235 West Market St.
Louisville, KY 40202
502.581.1070
https://www.osf.com/location/louisville-ky/