New Riff Distilling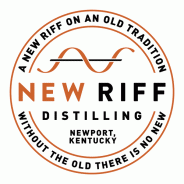 New Riff Distilling's core Bourbon builds upon America's 1897 Bottled-in-Bond Act. It features a mash bill of non-GMO grains at 65% corn, 30% rye, and 5% malted barley, representing a new riff on Kentucky's most hallowed whiskey traditions.
Our flagship whiskeys are a new riff on an old tradition. New Riff creates a range of whiskey including Bourbon, Rye, Malted Rye and a host of other specialty recipes – as well as Kentucky Wild Gin.
Our independently owned and operated bourbon distillery in Kentucky allows us the freedom to make a never before seen declaration for quality in every bottle of whiskey. We proudly lift the bar even higher by bottling every spirit without chill filtration, and stand behind this process with American ingenuity and entrepreneurial spirit. We are a talented team committed to doing things the right way.
Inspired by Bourbon history and makers of the past, our flagship bourbon whiskeys faithfully adhere to the classic Kentucky sour mash production regimen, while also forging into the future with high-rye recipes and no chill filtration. We observe over 200 years of tremendous whiskey history in the Greater Cincinnati area, and inhale a rye-rich backstory in our production traditions. We believe our process is a fantastic way to make whiskey and is a proper ode to historic bourbon country.
New Riff Distilling
24 Distillery Way
Newport, KY 41073
(859) 261-7433