Louisville City FC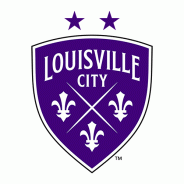 Louisville City FC is a professional soccer club located at 80 Edith Rd, Louisville, KY 40206 that plays in the United Soccer League (USL).
Since starting play in 2015 as Kentucky's only fully professional soccer club, Louisville City FC has quickly established a reputation both for winning on the pitch and solid fan support off of it.
LouCity, as we're often referred to, is a member of USL Championship, now sanctioned Division II by U.S. Soccer. The Club originally launched with the help of local architect Wayne Estopinal, a part-owner in Orlando City SC, a former USL member that moved up to MLS in 2015. The USL franchise shifted to Louisville, and James O'Connor, a native of Ireland and former Orlando City player, was hired as coach. Louisville City became independent of Orlando City, which has since launched its own USL club, and Louisville City has been the most successful club in the league.
Louisville City FC advanced to the USL's Eastern Conference Final every season since starting play in 2015. In its second year, the club was the last remaining independent side – one that doesn't have an MLS affiliation – in the playoffs.
LouCity reached the pinnacle of the league in 2017, winning both the Eastern Conference regular-season title and the USL Cup Final for the first time.
Louisville City started 2018 as one of the favorites to win the league title again, but no one could have predicted how the second championship cup would come home to Louisville.
Near midseason, O'Connor left Louisville City to take the head coaching job at Orlando City, leaving the club without a head coach. A trio of players was able to keep the Club winning until new coach John Hackworth joined the squad for the final 18 games of the 2018 season, including another remarkable USL Cup Playoff run.
In 2018, Louisville City FC became the first team in modern USL history by win back-to-back championships. Under "Hack" and assistant Danny Cruz, Louisville City FC capped off an incredible end-of-season run with 10 straight wins, including a 1-0 win over Phoenix Rising FC in front of a standing-room only crowd of over 7,000 at 2,500-seat Lynn Stadium on Nov. 8, 2018.
LouCity currently plays home games at Louisville Slugger Field, a converted minor league baseball stadium, but construction is underway on a new 11,500-seat, $75 million dollar stadium in Louisville's Butchertown neighborhood. The stadium is scheduled to be complete by March 2020, in time for the next USL season.
Entering the 2019 season as Back-to-Back Champions, Louisville City has already surpassed its 2018 season ticket total and has set new Club records for ticket sales benchmarks in the preseason.
Fans can purchase tickets by calling 502-LOU-CITY.