Kentucky Peerless Distilling Co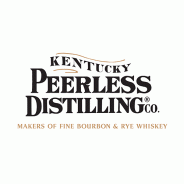 Family owned and operated, Kentucky Peerless Distilling Company offers exactly what its name means: an experience matched by no other where patience is personified and artificial need not apply.
Located at the center of one of Louisville's newest emerging scenes bursting with culture and liveliness, Peerless is a grain to bottle facility making Rye Whiskey and Bourbon.
The very first Peerless product went into the barrel in 1889 under Distilled Spirits Plant number 50. Today, Peerless has revived the family business after a 98-year hiatus due to prohibition. Honoring the past daily, Peerless operates under the same DSP number in a state-of-the-art distillery under the ownership of Corky Taylor, 4th generation, and his son Carson Taylor, 5th generation.
Peerless is currently crafting their own path at an unhurried pace. Using strictly sweet mash and non-chilled filtration, the select Kentucky Peerless grains are milled, cooked, fermented, double-distilled, barreled and bottled at barrel proof – all under one roof. Over 100 years of bourbon making, but the real history starts here.