Carmichael's Bookstore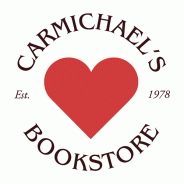 Louisville's oldest indie bookstore. Carmichael's Bookstore opened on Bardstown Road in 1978 and Frankfort Avenue in 1999.
Carmichael's is a family business in the best tradition. As the business grew, so did the number of family members involved, and the staff now includes a second generation.
Visit Carmichael's Bookstore often for cool stuff about books, writers, and upcoming events.
Bardstown Road location:
502-456-6950
1295 Bardstown Rd.
Louisville, KY 40204
Frankfort Avenue location:
502-896-6950
2720 Frankfort Ave.
Louisville, KY 40206